40+ Wholesome Behind-The-Scenes HOTD Photos That Are The Antithesis Of The Somber Series
By Jishnu B November 14, 2022
---
No one can deny that George R. R. Martin's A Song of Ice and Fire is a fine piece of literature. The fantasy series gave birth to one of the best series on television — Game of Thrones. It's a mesmerizing, thought-provoking, thrilling saga. Following in its footsteps is House of the Dragon, which is equally captivating and suspenseful. One thing that HBO's shows are not is comedic. And if you see someone being wholesome, they're probably gonna die soon.
It's a gruesome tale of a power struggle with equally gruesome imagery. But, as dark as the final product is, the cast members have shared some "behind-the-scenes" candid photos that really help take the edge off of this depressing tale. For your viewing pleasure, we compiled the best ones in one convenient spot: this listicle! Scroll on to see what shenanigans the cast gets up to when the cameras aren't rolling.
Don't Let Funerals Stop You From Enjoying Your Vacation
Poor Leana Valeryon. She accomplished so much in little time. Leana became the rider to Vhager, the largest dragon. She got to marry Daemon Targaryen and had two beautiful children with him. Yet it all came to a halt at such a young age. And now, look at her in-laws gleefully laughing during her funeral.
Jokes aside, both HOTD and GOT featured a lot of picturesque locations. You might be very surprised; not all of them are CGI. They filmed in various parts of Europe. It would be criminal not to find pleasure in such gorgeous scenery. Therefore, we are not surprised that the cast donned sunglasses and enjoyed themselves off-camera.
The Greens In front Of A Green Christmas Tree
Otto and Alicent Hightower are among the most disastrous father and daughter duo in HOTD. Otto is frankly not a good father; he's a power-hungry man who is hellbent on seeing his descendants on the Iron Throne. For that, he even forced his teenage daughter Alicent to seduce the old, widower king.
This photo is the opposite of their toxic relationship. Otto's actor Rhys Ifans and Alicent's elder actress Olivia Cooke are posing identically in front of a Christmas tree. From this adorable shot, you couldn't ever tell they have such poisonous chemistry on screen. We also have to respect their dedication for working during the holiday season.
Greg Yaitanes, The Heir To Iron Throne
George R. R. Martin might as well stop writing A Song of Ice and Fire because we already found the true owner of the Throne (we are kidding. Please don't ever stop writing). It is, of course, Greg Yaitanes, the director of HOTD. He is the man who makes the magic come alive on screen.
Directing the huge production of HOTD is no easy feat. As a director, you must conduct the cast and crew and ensure everything goes according to plan. There's very little room for error when you're in charge of a multi-million dollar project. From that perspective, he deserves to dine on the Iron Throne.
Paddy Considine — A Man Of Many Talent
We are warning you now, there will be a lot of Paddy Considine appreciation in this listicle. Both his portrayal of Viserys Targaryen and his real-life persona are worthy of high praise. We will assume you have already seen his extraordinary performance in HOTD. But did you know that Paddy is also a highly talented musician?
When he is not around the camera, he's likely practicing music. Besides being an actor and director, Paddy is the frontman of the British rock band Riding The Low. In this photo, he is showing the famous devil horn, still in his Viserys Targaryen makeup. This shot basically sums up Paddy as a person.
Luke, It's Me and My Mini-me
We apologize for the low-quality pun. These two young and younger gentlemen both played the role of the adorable prince Lucerys Valeryon, the son of Princess Rhaenyra in HOTD. Both actors embodied the same character; hence this sort of tasteless joke.
These two handsome gentlemen didn't get a lot of screen time in season one. Spoiler alert: they have no chance of reappearing in the next season, as Vhagar killed Lucerys Valeryon in the final episode. However, we must applaud them for their outstanding performances.
The Greens Serving Three Generations Of Awesomeness
If you haven't read Fire and Blood, you're probably confused by the "greens." They are the faction run by the Hightowers. Their goal is to solidify their power in Westeros by putting their own Targaryen descendants on the Iron Throne. Otto Hightower, Alicent, and Princess Helaena belong to the green faction.
As a family, the greens are frankly very dysfunctional. They could almost rival the nastiness of the Lannisters in Game of Thrones. Otto Hightower uses his children and grandchildren like chess pieces, and the family remains icy and distant. However, this photo says the opposite. He is seen jovially sitting with his daughter and granddaughter.
"I Am The King Of The Seven Kingdoms. I Can Sit However I want"
The King Viserys Targaryen we see on the screen is a very gentle person — perhaps a little too gentle for a king. Despite his high status, he is soft-spoken and treats everyone with respect (unless they really REALLY mess things up). As we saw in HOTD, he is an elegant, peaceful man.
Paddy Considine, Viserys' actor, is a very different person. He is a charismatic and hilarious person in real life. Photos like this can come off as shocking to many people. No one could ever imagine the calm Viserys to be so chaotic. That is an indication of what an amazing actor he is.
The Adorable Little Targaryen Sisters
Although these two beautiful ladies had not been highlighted much in the first season, we think they steal the spotlight whenever they're on screen. Sadly, the younger versions of Baela and Rhaena Targaryen did not get much screen time. We strongly believe they deserve more attention, even if it's only for their cuteness.
The twin daughters born of Daemon Targaryen and Leana Valeryon have a strong Valyrian pedigree. Both their father and grandmother come from the Targaryen bloodline while their mother and grandfather come from the Valeryon family. Eva Ossei-Gerning and Shani Smethurst play the younger versions of Rhaena and Baela.
Ser Criston Breaking Rules Yet Again
Ser Criston Cole was a fan favorite when HOTD first aired. He was handsome, chivalrous, and loyal to Princess Rhaenyra. But his personality took a nose-dive and never got back up. Things went downhill ever since he deflowered Rhaenyra against the rules and blamed her for it. Currently, he is among the most hated characters in HOTD.
Kingsguards are required to remain abstinent and unmarried — both of which he either broke or tried to break. And it seems he breaks more than the rules of the Kingsguard. As you can see, Ser Criston's actor, Fabien Frankel, seems to also have a knack for being a troublemaker.
Finale Watch Party
Rhaenyra and Alicent's frenemy relationship is a catalyst for many of the events of HOTD. They grew up together as best friends, and their bond deepened after Rhaenyra lost her mother, just as Alicent had. However, it all went downhill due to the war of succession. In the next season, things will be much more bloody.
Despite their on-screen tragically malevolent chemistry, they're great friends in real life. Olivia Cooke and Emma D'Arcy are the breakout stars of this season. Due to that, they developed an amazing relationship off-camera. Emma and Olivia even gathered their friends and watched HOTD together.
Velaryon Brothers Are Strong Together
We are not sorry for doing this. This is the kind of thing that Aemond Targaryen would say, and we are here for it. These two fine gentlemen right here are the sons of Rheanyra. Technically, they are in the line of succession. However, their illegitimate births were a huge reason for the upcoming war.
As seen in HOTD, Jacaerys and Lucerys have a really strong bond. Neither of the brothers are ever seen without the other ever. Thankfully, it's not all fictional. The teenage actors, Harry Collett and Elliot Grihault, are often seen posing together for photos. Collett called Ghihault his 'lil bro' on Instagram.
Granny Rhaenys With Her Two Beautiful Grandchildren
Those who read Fire and Blood already know that Rhaenys Targaryen was one of the strongest female characters in ASOIAF. It's a tragedy that the long-standing misogyny prevented her from becoming queen. Rhaenys could have been the perfect ruler — she's both kind and tactful. She is so bada** that she went to war in her 50s.
Besides being an absolute legend, Rhaenys is also a loving family person but isn't afraid to give cut-throat, realistic opinions to her husband when he acts up. Later in the season, her daughter Laena left her with two trueborn granddaughters, both of whom Rhaenys adores. Even behind the scenes, the loving grandmother was bonding with the girls.
Olivia Cooke And Emma D'arcy Learning How To Ride A Horse
Rhaenyra and Alicent's sisterly bond is gone once and for all. From how the final episode of HOTD season one went, there is no coming back from this broken bond. The season will be a full-on war between these two royal women. However, off camera, it's a different story.
Olivia Cooke And Emma D'arcy's wholesome friendship is perhaps the cutest thing, and the two often hang out together. Since they're starring in a medieval show, it's essential for them to ride a horse. D'arcy couldn't hold back her giggles as she recorded Cooke failing to climb on a horse.
Hall Of Legends
This photo is kind of overwhelming. We don't know where to look. Everywhere your eyes land, there is a major HOTD character. This one photo could almost rival the one that Ellen DeGeneres took during the Oscars. Nine crucial characters of the show are nonchalantly chilling together.
You can see Corlys Valeryon and King Viserys getting their makeup done in the background. There is also Otto Hightower, Rhaenys Targaryen, and Lyonel Strong casually resting. And then you see Daemon Targaryen and cannot help but feel mesmerized. We didn't know we needed rogue prince Daemon in glasses and timberlands, yet here we are.
The Most Iconic Bathroom Selfie
Bathroom selfies are a quintessential part of the Gen Z lifestyle. You cannot go to a public bathroom without ever seeing teenage kids huddling together and pouting for a mirror selfie. There are even memes shaming these random selfies. Yet, we have nothing to complain about in this photo.
Princess Helaena Targaryen and Lady Baela Targaryen are seen posing for a selfie, and we are here for it! These two characters never came together in the first season, but this photo makes us wish they had. We hope the producers put them together in the next season.
Someone Tell The Commander! Ser Criston Is Sleeping During His Job
Would you look at that? It seems Ser Criston Cole can't get enough of being a rebel. We are not going to sugarcoat it; we kind of hate this guy. Trust us. If you watch HOTD, you will very soon find yourself hating this handsome man. He is what people these days call an "incel."
He knowingly broke his vows when he bedded the princess. Yet it was her fault when things didn't go the way he planned. Criston also betrayed Rhaenyra by allying himself with her enemies. In this photo, he's breaking the rules again by sleeping during his duty. Who's gonna protect the king if he keeps sleeping?
The Truth Behind The Dragons
Many of us had come to the GOT franchise for the dragons. Several other television shows have featured dragons in them, but none did it as well as Game of Thrones. The dragons that HBO produced were exquisite. From the way they sound to the way they look — these dragons are magnificent and lifelike.
That's why HOTD had such hype. They featured the golden era in which Westorosi dragons thrived. We're sure there'll be more dragons featured from the Fire and Blood book in the upcoming season(s). Due to the amazing CGI, many of us often forget those dragons aren't real. In reality, they use green screens like this.
King Viserys, The Guitarist
By now, you must have already known that Paddy Considine is an amazing musician. Besides being a spectacular actor, director, and screenwriter, he can also play the guitar and drums. He is the frontman (including vocals) of the rock band Riding The Low. Truly, he's a Renaissance man.
On the set of HOTD, he made it his mission to find objects that resembled an electric guitar. He would pick them up and pretend to play them during his breaks. In this screenshot, he was running around during the royal hunt scene of episode 2, using a broom as his beloved guitar.
Yes, Lucerys. Get That Alliance From The Baratheons
Oh, how we wish this was how things ended in the show. Sadly for us and Lucerys (and Aemond), things did not go as planned. Maybe this could all be resolved civilly and calmly. To be honest, Luke should have run for the hills the moment he saw Vhagar's silhouette at Storm's End.
However, it all ended in tragedy. We are all unhappy about it, but what can we do? This is what George R. R. Martin wrote in Fire and Blood. All we can do is write fanfiction and laugh at the "Mommy's little war criminal" memes.
The Little Ones And Older Ones In One Frame
The end of Rhaenyra and Alicent's friendship is tragic. They used to be perfect together. Rhaenyra was a little too wild and loud, meanwhile Alicent was demure and traditional. They balanced each other out perfectly. However, it's all gone, and fans like us can only mourn the loss and wonder about what they could've been.
For the first few episodes, we see the naive teenage version of Rhaenyra and Alicent. After the time skip, both are mothers and far more seasoned than before. In this photo, Olivia Cooke And Emma D'Arcy are posing with Milly Alcock and Emily Carey, their younger counterparts.
Green Men Stick Together
This photo truly warms our hearts. These handsome gentlemen play a lot of significant roles in HOTD, so we're glad they got along off-set. From the left, we can see Criston Cole, played by Fabian Frankel, and right beside him is Ewan Mitchell, the one and only Prince Aemond.
We can also see Tom Glynn-Carney, who plays Prince Aegon II Targaryen. If you are confused by the two identical-looking men, don't be. They play Ser Arryk Cargyll and Ser Erryk Cargyll, the twin brothers who serve opposite sides. Yes, their actors, Elliott and Luke Tittensor, are twin brothers in real life.
Hightowers Munching On Tacos
It's amazing how things look so different when the camera is off. On-screen, Olivia Cooke and Rhys Ifans have a toxic relationship. In HOTD, Rhys Ifans is Otto Hightower, the ambitious, manipulative hand of the king. He influenced his naive daughter and led her to do many immoral things. This disastrous relationship eventually started a war.
However, when you see heartwarming photos such as these, it is hard to connect them to their on-screen personas. They're sitting on a set of stairs and munching down on some tacos. You could never tell they had such a poisonous relationship on screen. This also alludes to how talented they're as actors.
Paddy Considine's Guitar Saga Continues
We do not deserve Paddy Considine. He is too precious for this world. We have previously mentioned that Paddy was an avid musician. Though he's most known for his acting roles, he is an indie singer and guitarist. This adorable man was determined to play with any set prop that resembled a guitar.
Imagine his joy when he finally found an actual guitar! Just look at him. He is the dictionary definition of happy. Although it is not an electric guitar he's used to playing, Paddy has no complaints. This medieval guitar was more than enough to please him.
Even If You Are Being A Disappointment, Do It In Glam
Poor Aegon II Targaryen has it rough. He's not fit to rule. He knows it; everyone else around him knows it. Yet they still pressure him to take the throne. Aegon constantly disappointed his mother and grandfather. Yet we loved him because he was so relatable. However, the older version of him let us down.
We loved the younger version of him. He was funny and snarky. The things he said made sense. It was hard not to love that little man. The older version of him broke our hearts. We like this off-camera version of him way better.
Granduncle Vaemond Is Not As Bad As He Seems
If we knew someone like Vaemond Valeryon in real life, we would most likely stay away from them. Vaemond does not have a lot of screen time in HOTD, but that does not matter because he made sure he was memorable. Whenever we see him, he is either bad-mouthing or headbutting someone.
He would not have survived this long had it not been for his more rational older brother. This makes sense as Vaemond got himself killed due to his loose mouth after his brother disappeared. However, Vaemond's actor Wil Johnson is a much more tolerable person to be around.
Top Ten Photos Taken Before Disaster
Oh, what a disaster this was. The ones who read Fire and Blood already knew about Ser Criston Cole's betrayal, but show watchers like us had no idea things would get to this point. He seemed like such a nice guy. He used to have deep conversations with Rhaenyra and protected her from many dangers.
At the end of the day, that's all that he was — a nice guy. This photo was probably taken during the bed scene from the 4th episode — you know, when things really went downhill. What we thought was a loyal kingsguard became one of Rhaenyra's greatest enemies. ASOIAF has given us many plot twists.
Honestly, Very Relatable
In our opinion, HOTD's child actors are heavily underappreciated, but we're hoping to change that. After the major time skip, we're introduced to many young characters. Both Rhaenyra, Alicent as well Laena Velaryon had borne several children. For a while, the cast was filled with kids. However, these are no ordinary kids.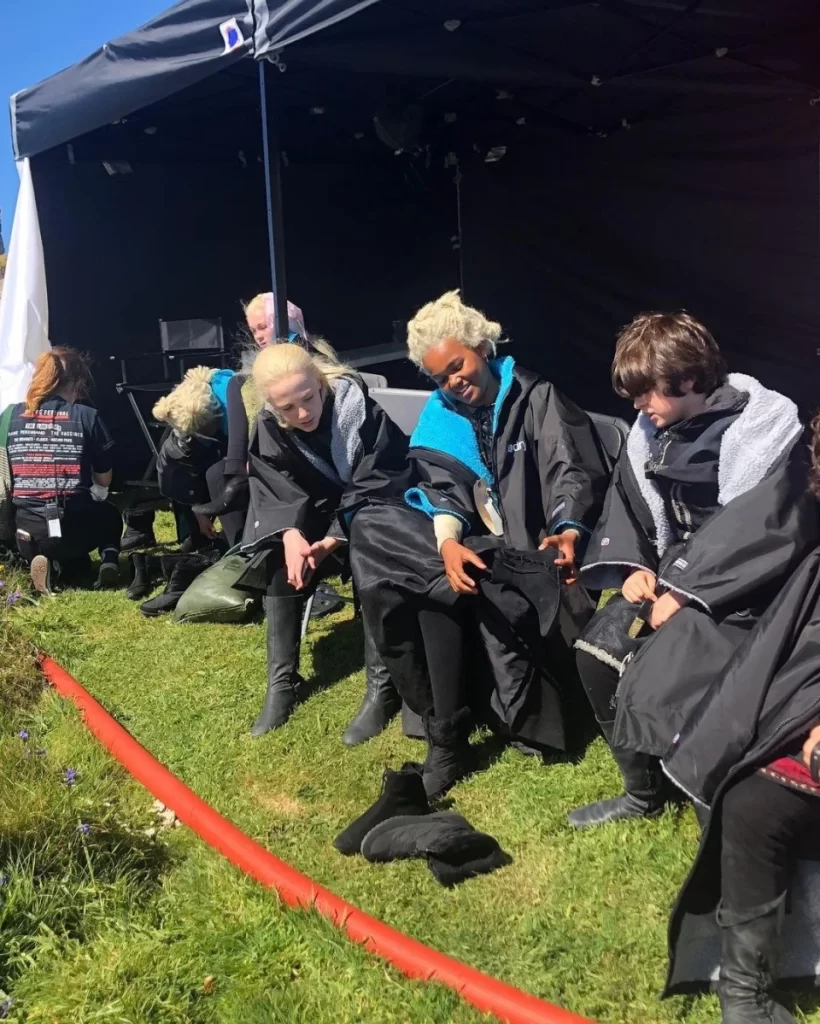 There was the fiery Aemond Targaryen, who was ready to sacrifice his eyes for the mightiest dragon. We met Aegon, a drunken teen boy who just wished to disappear. We also met the strong brunette brothers. All of them performed exceptionally. In this photo, they are chilling together, despite their volatile on-screen chemistry.
Paddy Considine And His Makeup
GOT and HOTD had some of the finest makeup and special effects teams in television history. Both of the shows featured many gory things, but most weren't CGI. These effects are created by experts with superb makeup skills and creativity.
No one in HOTD went through the extreme transformation as Viserys did. After cutting his finger on the Iron Throne, we saw how slow his body was to heal. With every episode, his condition got worse. This effect was translated into reality by amazing makeup artists. They literally made a second skin for him.
The Hightower Children
Otto Hightower is a despicable man. The Dance of the Dragon and the Targaryen Civil War can be traced back to his ambition. Yet, he is still such an interesting character to watch. However, we only like to observe. Not even in our worst nightmares will we ever wish to be his relative.
The ones who suffered were his grandchildren. Technically, Alicent's children were literally born because of her father. Or rather, his ambition. In this photo, Otto is uncharacteristically smiling yet his grandchildren kept firm. Aegon looks drunk as ever; Helaena is dreaming; meanwhile, Aemond looks intense.
When You Accidentally Open The Front Camera
We've all captured that accidental selfie and looked painfully ugly in it. After seeing our photo, most of us refuse to look in the mirror for a week. And then there are these people. How do they look this good? Ewan Mitchell, the actor who played One-Eyed Aemond, looks especially dashing (so does lord Baratheon).
Ewan Mitchell gained critical acclaim recently due to his role in HOTD. He was perfect for his role as Aemond. He will be much more important in the later seasons, as Aemond's war crime kick-started, well, a war. Mitchell had already performed so excellently. We are looking forward to seeing more of him in season 2.
Princess Helaena Is Our Favorite
It's so hard not to adore this girl. As we saw in the series, Heleana is constantly absent-minded. She plays with insects and mumbles what people think is gibberish. It's as if she's not in the physical world anymore. However, we have a theory that she can see the future.
She is a bit eccentric, but that's what makes her so adorable. Her actress, Phia Saban, also has some traces of Helaena in her personality. She has a dreamy look on her face that makes her perfect for the role. Saban often plays with the props. This picture was snapped while she was climbing the costume rack.
Paddy Is Amazing
We should all thank HBO for casting Paddy in the role of Viserys Targaryen. He was born for this. HOTD had many characters that made us sympathetic, however, none made us cry as he did. Paddy portrayed Viserys' dilemma and his love for his family impeccably. We can't imagine anyone else in this role.
The HOTD bloopers showed us what a charasmatic and joyful man Considine is. In one of the bloopers, Viserys tripped on the stairs of his carriage. Instead of falling flat on his face, he quickly regained balance and twirled like a dancer.
Paddy Appreciating His Makeup Artist
HOTD understandably had a high budget for their costumes and makeup. The cost of Targaryen blond wigs is enough to make a man bankrupt. They hired some of the finest artists and designers to work on their set, and it translated really well in the show.
Paddy Considine is a lover of art. Of course, he understands the beauty of makeup. His character Viserys went through the biggest transformation in the show, so Paddy had to adorn dramatic makeup that looked like his flesh was falling off. In this post, he showed appreciation to his makeup artist Hannah.
Jaecerys And Baela Chilling Together
If you are familiar with the ASOIAF universe, they have a knack for displaying things that civilized society would never stand for. If you had trouble tolerating Cersei and Jaime from GOT, you are going to have a harder time with HOTD. They feature the Targaryen family, who are notorious for inbreeding.
Jacaerys Valeryon and Baela Targaryen are betrothed to each other. You should also remember that they are basically aunt and nephew in the show. This will seem odd to you, but that's how the Targaryens did things to keep their bloodline pure.
Helaena Targaryen, The Face Plant Extraordinaire
Helaena is one of those characters you simply cannot hate. She plays with a variety of bugs and constantly mumbles out all sorts of prophecies. She is a lot like the trojan princess Cassandra who always speaks of the future, yet no one believes her. Helaena and her eccentric charm is adored by all fans.
From the evidence above, it seems she is equally eccentric off-camera as well. Helaena's on-camera mother, Olivia Cooke, posted these photos of actress Phia Saban in various states of faceplant. We can't blame her. Working on such a massive production can be exhausting. Her only crime is being too adorable.
Emma D'arcy And Greg Yaitanes Appreciation
Emma D'arcy did a wonderful job portraying the adult version of princess Rhaenyra Targaryen. They accurately displayed the maturity that came with growing up and becoming a mother. Their younger counterpart was much more wild and impulsive whereas this version of her was far more calculating.
Greg Yaitanes has also proven himself to be worthy of high praise. We all remember how GOT let us down. Imagine waiting a decade only to be let down by the season finale. Due to that, the pressure for the prequel was higher. There was little room for error and Yaitanes executed HOTD perfectly.
The Sleeping Prince
Ser Criston Cole is a bad influence. Last time he was sleeping during his duty. Now the crown prince followed suit and fell asleep on the set. Then again, it is very in character for Aegon. Compared to his ambitious brother, he prefers sleeping and drinking.
Jokes aside, this situation is actually very understandable. Working on a project such as HOTD can be very exhausting. Sometimes you just need to sit in a lawn chair and close your eyes. Work will always be there to suck the life out of us. However, we must also find proper rest.
The Kingsguard
GOT fans are already familiar with the concept of Kingsgurads. They are the elite fighters whose sole duty is to protect the monarch. Queen Visenya had started the tradition and went on for generations. Their vows are similar to that of castle black. They can't marry or own lands.
In HOTD, we meet the three new — or, rather, older — Kingsguard. We also saw the process by which Kingsguards are chosen. We already know who Ser Criston Cole is. We also meet the two twin brothers Ser Arryk Cargyll and Ser Erryk Cargyll. They interestingly serve opposite sides of succession.
This Feels Like Dream
We already know the kind of person Otto Hightower is. He is a little too ambitious about putting his descendants on the throne. While it serves his own purpose, people around him often suffer. His oldest grandson probably suffered the maximum brunt of his greed.
Prince Aegon had no intention of becoming the king. It was all his mother and grandfather's idea. All he wanted to do was sip on wine and spend his days in leisure. Clearly, he is a major disappointment to his grandfather. This backstage photo displays the opposite, with the two gleefully smiling at each other.
It's A Dysfunctional Family Photo
During the days when GOT aired, people used to laugh at the Lannister family for being a mess. The twins had an incestuous relationship and bore three children. The father was a psychopath who was obsessed with legacy. We wonder what they would say after seeing the Targaryen family tree.
Allow us to give you an example. In this picture, the man on Rhaenyra's left is her uncle/husband. The young boy was born from an illegitimate union. Meanwhile, Alicent is her childhood best friend as well as her stepmom. Yeah, totally normal family dynamics.
#DISGUSTED
Bloopers are a blessing from the gods. You especially need it while dwelling with any sort of spin-off from the ASOIAF universe. Let's all be honest, GOT and HOTD are kind of depressing. You need the hilarious bloopers to make yourself feel better.
Thank god Olivia Cooke for her generosity. We couldn't help but laugh at her expression here. This is the exact face we had when we first read Fire and Blood and learned about the Targaryen custom of inbreeding. This face is canon as Alicent herself detested this tradition.
Before/After
With the stunning costumes and jaw-dropping acting, it's hard to think that the cast members of HOTD are just humans. As we've seen in some hilarious behind-the-scenes pictures, they need to eat, sleep, and unwind in between filming the intense series.
And, thanks to Olivia Cooke's honest and candid post, we know they need to break wind, too. Even the always-serious Helaena couldn't help but laugh at the sudden and unexpected fart. Olivia kept her coworker's secret and didn't share just who was responsible for this moment.
Sit While You Still Can
There was a Twitter poll back in 2016 that asked if you would rather sit on the Iron Throne or sit in queen Elizabeth's chair. [Un]surprisingly, the Iron Throne won by a landslide. This is why you'll find photos of every single cast and crew member sitting on the Throne.
It makes sense that Lucerys Valeryon's actor took the chance to sit on the Iron Throne. Since the poor lad was killed off, he has no chance of coming back to the HOTD set. Therefore, filming season one was a once-in-a-lifetime opportunity to sit there.
TV's Most Complex Teenage Friendship
The first half of HOTD featured one of the most tumultuous friendships between two young girls. Princess Rhaenyra Targaryen and Queen Alicent Hightower were played to perfection by Milly Alcock and Emily Carey. They had lots of good, and even a few steamy-ish, times before things fell apart.
We totally get it. How do you remain besties with someone after they marry your own father? Luckily for these two, life doesn't imitate art, so the complications of their relationship remain on set. When the cameras are off, it's nothing but good vibes.
Greg Yaitanes Is A Legend
This is the fourth time we are praising him in this listicle. That should tell you about how highly we think of him. After the heartbreak delivered by the season finale of GOT, many were hesitant about HOTD, but Yaitanes did a wonderful job conducting HOTD.
Yaitanes managed to blow all expectations out of the water. He took George R. R. Martin's story and portrayed it on screen perfectly. Now, we can't get enough of it. All of us are eagerly waiting for the second season to drop.
"She is Fabulous. She Is Serving Targaryen Realness"
It's only fair to end this listicle with a bang. Who else is more appropriate for this than Paddy Considine, the legend himself? As you can tell, we are big fans of him. We think that you should be one too. If you are still not convinced, take a look at this Tiktok Paddy posted.
We were weeping at Viserys's frail state in the penultimate episode. It broke our hearts to see him waddle to the Throne to support his daughter. However, the behind-the-scenes was completely different. Paddy, who was fit as ever, was twirling a staff like a diva. He is indeed fabulous.