The Bodyguard: How Much Are Celebrities Willing To Pay For World-Class Security?
By Makungu H September 29, 2022
---
The lives of wealthy and well-known people can be quite glamorous. Red carpets events. The love and adoration of millions of people. We obviously can't overlook the millions of dollars that come as part of the package.
Unfortunately, there are parts of life as a celebrity that are not glamorous at all and are, instead, quite dark and scary. Sometimes fans don't know how to toe the line, and interactions with these kinds of fans can be awkward and even dangerous.
That is why the most famous of the rich and the famous make sure to hire the best security teams money can buy. These celebrities are willing to spend astronomical amounts of money to ensure their safety and the safety of their families.
Here is a list of how much celebrities spend on their protection.
Mark Zuckerberg: $23 million/year
Just like his fellow billionaire buddies, Mark Zuckerberg certainly spares no expense regarding his security. The Facebook founder disburses a whopping $23 million annually on his security. Even though his company pays almost half of that bill, he still forks out the rest.
Zuckerberg has been quite a controversial figure over the years. His company was involved in a data mining scandal that resulted in the billionaire having to explain himself to Congress. It seems he has enough enemies to justify the cost of his security.
Kim Kardashian: $7 million/year
The Kardashian-Jenner clan lives quite a jet-setting lifestyle. From New York to Paris, this family knows how to enjoy every penny that they have accumulated over the years. However, sometimes this glamorous and enviable lifestyle can go horribly wrong sometimes.
While in Paris in 2016, Kim Kardashian was held at gunpoint and had over ten million worth of jewelry stolen. These days she takes no chances regarding her safety. The star spends $7 million a year to keep her family safe.
Kylie Jenner: $4.8 million/year
You might have seen paparazzi pictures of Kylie Jenner and her hunky bodyguard, Tim Chung. The youngest member of the Kardashian clan was rumored to have a secret relationship with the bodyguard, with some even alleging that he was her daughter's birth father.
Of course, these rumors were proven to be nothing but internet gossip, and Tim has now left his role as Jenner's bodyguard to pursue his modeling career. Jenner soon found a (slightly less dreamy) replacement and is said to spend $4.8 million a year on her security.
Beyonce: $2-4 million/year
Beyoncé has been dubbed a celebrity for celebrities. Many of the celebs we all look up to are reduced to starstruck fans in her presence. That is why this pop icon spends a reported $2 – 4 million a year on keeping psycho fans (famous or not) at arm's length.
Queen B is often flocked by her trusted long-time security guard, Julius de Boer. Julius and his team are responsible for the safety of Beyoncé, her three children, and her rapper-turned billionaire husband, Jay Z who finally put a ring on it!
Lady Gaga: $2.1 million/year
Lady Gaga is quite familiar with pushy paparazzi. But we all know that, considering she wrote a song about it. But it wasn't just the pesky paparazzi that made Gaga bump up the security around her home. The award-winning singer had a scary security incident.
In February of 2021, Gaga's dog walker was shot while walking the singer's dogs, and two of her precious pups were kidnapped. The dogs were eventually returned, but it was a horrifying experience for Gaga. She spends 2.1 million a year on keeping herself and her dogs safe.
Angelina Jolie: $2 million/year
Angelina Jolie has been a dream girl for many men and women across the globe for as long as we can remember. Her A-list status has come with some perks, like marrying heartthrob Brad Pitt, but she has had to spend millions on security.
The now divorced couple, Brangelina, hired ex-military man Mark Billingham as their family bodyguard. Billingham has experience in some of the most perilous places on the globe. His services don't come cheap, though; they will cost you about $2 million a year.
Tom Cruise: $2 million/year
Tom Cruise is infamous for the daring stunts in his movies. The action star prefers to do most of his own stunts. Whether it is hanging on to a moving plane or jumping between buildings, Tom Cruise is absolutely fearless.
However, Cruise prefers to mitigate all risks when it comes to his life outside of the films. Most of the $2 million Cruise spends on his security every year goes to ensuring his daughter, Suri, is safe. Oh, to be the daughter of a megastar!
Johnny Depp: $2 million/year
Divorce is never pretty. However, few divorces could compare to Depp and Heard's divorce. The Pirates of the Caribbean star separated from his actress ex-wife in 2016. Since then, it has been endless court battles that surrounded some abuse allegations against Depp.
There has since been a media frenzy around Depp, and he has had to beef up his security. He now spends about a couple of million dollars yearly on his security team. The only people that seem to win in a divorce are lawyers and, in this case, security companies.
Larry Ellison: $2 million/year
Larry Ellison is not necessarily a household name. Still, in the tech world, he is known as a notorious bad boy for making outrageous statements (and being the founder of Oracle). We guess you can say what you want when you're a billionaire worth more than $90 billion.
Even when he lounges on his superyacht, this billionaire still needs to ensure that he and his many properties are secure. That is why he spends two million annually on security. That's a crazy amount of money for most of us, but mere pocket change for Ellison.
Daniel Radcliffe: $1.3 million/year
If you've never heard of Harry Potter, then you're not just living under a rock; you're living under Mount Olympus. It is the best-selling series of novels in history. The man who helped the books come to life in the film adaptation is none other than Daniel Radcliffe.
Radcliffe's bodyguard, Sam Morris, looks more like the actor's big brother than a bodyguard. Even so, Morris ensures that Radcliffe's $1.3 million a year on security does not go to waste. The man is so pedantic about security that he even plans out Radcliffe's bathroom breaks!
Jeff Bezos: $1.2 million/year
Jeff Bezos is more computer geek than a hardcore rapper, but that doesn't mean that he spares any cent on his security. This founder of Amazon (and recent space explorer) is worth more than $150 billion. That's 150 billion reasons why someone would want to harm him.
Bezos spends about $1.2 million a year on his security. He has even installed military-grade bulletproof panels in his office. With all these military-grade products and space exploration, he sounds like an Austin Powers villain. But who can blame him for ensuring his safety, right?
50 Cent: $1 million/year
If cats have nine lives, 50 Cent has ten. The Get Rich or Die Trying rapper was shot at close range nine times and lived to tell the tale. He believes that the reason he survived was to fulfill his purpose in life.
To make sure he lives long enough to fulfill that purpose, 50 Cent spends upwards of $1 million a year on security. This includes security guards, other security devices at his home, and bodyguards. That's one pretty penny. Or, erm, cents.
Mariah Carey:$1 million/year
All Mariah Carey wants for Christmas is to keep her and her family safe. The legendary singer pays her security team about $1 million a year. However, they certainly work for it! Her security team is often seen carrying her or fetching her food.
The pop star had a little trouble with her security team back in 2017 when her bodyguard accused her of sexual harassment. She has now moved on to a new team, and the diva can now continue hitting those high notes with no worries.
Victoria and David Beckham: $1 million/year
The hall of fame of "it couples" is incomplete without Victoria and David Beckham. The Spice Girl and footballer have a romance that has spanned decades and have added some lovely kids to their family. All the more reason to make sure that they keep their family protected.
The couple has been known to spend $1 million on security. This includes securing one of their properties and a bodyguard for each of their four children. If they're looking to add to their family, we would love to be adopted by this beautiful couple.
Michael Jackson: $1 million/year
When you're the King of Pop, crazy fans seem to come with the gig. Michael Jackson has had fans since he was just five years old. By the time he became a seasoned performer, fans would faint from being in his presence at concerts.
When you have that much of an impact on the world, it is essential to make sure that your safety does not become compromised. Michael Jackson spent $1 million a year on a security team that ensured no smooth criminals came near him.
Floyd Mayweather: $600k/year
Money Mayweather has gone round-for-round and hit-for-hit in the boxing ring with some of the most formidable competitors in the world of boxing. Outside of the ring, however, the athlete prefers to let someone else take the punches for him.
This boxing legend allegedly pays each member of his security team, whom he calls "The Money Team," $150,000 a year. We aren't sure how many people would be brave enough to bother Mayweather, even without all the security, but better safe than sorry!
Britney Spears: $600k/year
Britney Spears has recently been on the news due to the battle to end her conservatorship, but the pop star has been making hits since she was just 16 years old. Such fame can often come with some creepy fans who tend to get too close for comfort.
Britney spends $600,000 a year on security to keep all the creeps at bay. The singer may have sung the hit song "Hit Me Baby One More Time," but she certainly does not want any toxic fans taking that request seriously.
Paris Hilton: $500k/year
Most people might know Paris Hilton for being the eccentric media personality dressed in all pink with a chihuahua in her handbag. She is also an heiress to the huge Hilton fortune. This means that she is accustomed to security teams hanging around.
Paris Hilton spends around $500,000 a year on security. Oddly enough, she spent more on keeping her engagement ring safe after her former fiancé popped the question. She spent a cool $2 million on a team whose only job was to keep her ring safe.
Rihanna: $500k/year
Bajan pop star Rihanna has been blaring through our radios for more than a decade. She has stepped away from music and created a beauty empire that has landed her on the billionaire list. She now has more than enough money to pay for an A-list security team.
The new mom spends around $500,000 to keep her family safe. There is a rumor that Rihanna smells incredible (which is strange accolade, by the way), and her highly-trained bodyguards keep away the fans who want to take a whiff.
Madonna: $500k/year
Every King needs his Queen. If Michael Jackson is the King of Pop, then Madonna is the Queen of Pop. This material girl has been gracing the top of Billboard charts since the 80s and has since amassed a fandom that spans several continents.
That kind of fame requires a security team to match. It is rumored that Madonna's security team costs her around $500,000 a year. We wouldn't expect anything less from a legendary artist who has had a billion-dollar career spanning decades.
Gigi Hadid: $500k/year
Gigi Hadid has it all; a successful modeling career, a beautiful body, and a brand-new baby with her ex-boyfriend, former One Direction member Zayn Malik. Unfortunately, life in the spotlight can mean putting your family at risk of being harmed.
The supermodel has had a couple of brushes with fans who got too close. In 2016, a known prankster invaded her privacy and tried to grab her as she was leaving a fashion show. She now spends about $500,000 a year on her security.
Jennifer Lopez: $500k/year
She may be Jenny from the Block, but Jennifer Lopez's block has gotten considerably fancier since her rise to fame. These days, Lopez can be found on glamorous red carpets or performing at the Superbowl. Either way, her superstar status means she must ensure her security team is top-notch.
The star has enlisted the services of The Force Protection Agency. The agency hires former cops and military personnel to keep A-list celebrities safe. Lopez spends $42,000 a month, more than $500,000 a year, on her security. She can afford it; she is worth $400 million, after all.
Selena Gomez: $500k/year
Selena Gomez has gone from being a Disney star to a businesswoman and singer worth $95 million. She achieved all of this success despite battling lupus, an autoimmune disease, and undergoing a kidney transplant at the tender age of 24. She is one resilient lady.
Even strong people need protection at times. Selena hires a team of experts, whom she pays $500,000 a year, to guard her. Even though they are her employees, she has become pretty close to her security team; she even gave a speech at her bodyguard's wedding!
Taylor Swift: $400k/year
Taylor Swift's rise to fame was certainly…erm, swift. She went from being the sweet country singer behind a guitar to being a mega pop star in what seems like the blink of an eye. As we know, fame and fans mean potential dangers everywhere.
Swift makes sure that she has a team of bodyguards whenever she is out and about. There is certainly no Bad Blood between this singer and her security detail. She pays them about $400,000 a year, and they even join her for fun trips to Disneyland.
Katy Perry: $350k/year:
She might have kissed a girl and liked it, but one thing Katy Perry does not like is any creeps hanging around her family. The singer has been quite busy in recent years, joining the show American Idol as a judge and becoming a mom.
It was her introduction into the world of parenthood that inspired Perry to hire the best of the best to protect her and her family. She spends $350,000 a year on security to make sure that her precious daughter stays out of harm's way.
Halle Berry – $300k/year
Halle Berry's performance in Catwoman would almost have you believe that she has the catlike reflexes and superhuman fighting prowess to defend herself. But alas, she is only human and sometimes needs the extra protection that comes from a bodyguard.
Halle Berry reportedly spends $300,000 a year on security. She has had to beef up security because she has received some worrying letters. One letter even promised to harm her daughter in an unimaginable way. If only Batman could dish out some justice to these sickos.
Cara Delevingne: $250k/year
Cara Delevingne wears many hats. She is a model, an actress, and a fashion designer. With as so many jobs to juggle, Cara does not have time to worry about her security. That is why she hires a team to make her and her home secure.
The importance of tight security was highlighted when a stalker tried to enter her home. The $250,000 a year that Cara spends on security is worth the peace of minding of knowing that an incident like that will never happen again.
Bella Hadid: $250k/year
Another member of the Hadid family who is not afraid to spend money on security is Bella Hadid. The supermodel spends $250,000 a year on security just so that she can continue to live her globe-trotting lifestyle with no worries.
While celebrities can often look like helpless sheep being shepherded by their security teams, Bella is strong enough to stand her ground when she deems it necessary. She has even reprimanded a security team member for shoving a paparazzo out of the way.
Justin Bieber: $250k/year
No one can forget the Bieber Fever that swept through the world more than a decade ago. Justin Bieber has been singing his way into the hearts of teenage girls since before he was even legally allowed to drive or drink.
Since then, his fan base has grown to insane proportions. That is why the newly-married singer chooses to pay about $250,000 a year in security to keep all the crazy fans at a reasonable distance. That's pocket change for the multi-millionaire.
Jennifer Aniston: $240k/year
Jennifer Aniston has been on our screens since the '90s, when her breakout role as Rachel Green in the show "Friends" boosted her to superstardom. It is no surprise, then, that this A-list actress cannot step foot outside of her home without being bombarded by fans.
Aniston pays an estimated $240,000 a year on her security team. Just nickels and dimes for Aniston, who was paid $1 million per episode during the last two seasons of Friends. This made her the highest-paid actress at the time. Beauty and a big bank account – a stellar combination!
Ariana Grande: $200k/year
Ariana Grande has managed to maintain an air of mystery, even under the watchful eye of her millions of fans. She even managed to wed her fiancé in an uber-secretive ceremony that the press knew nothing about. Her secret to keeping her private life private is her all-star security detail.
There are whispers that the popstar and beauty brand owner shells out $200,000 a year on her security team. This figure may sound outrageous to ordinary folk, but her security team only costs 0.1% of her more than $200 million net worth.
Jennifer Lawrence: $125k/year
Jennifer Lawrence is most known for her role as Katniss Everdeen in the hit series, The Hunger Games. However, this actress is also infamous for having the best-looking bodyguards in the industry. She has multiple bodyguards, most of whom could be movie stars.
Her go-to guard, Greg Lenz, is often seen at Lawrence's side and has been protecting the star since 2013. He even goes as far as protecting her little chihuahua and can sometimes be seen carrying the tiny puppy. A big man with a little dog; swoon!
Ryan Reynolds and Blake Lively: $125k/year
Ryan Reynolds must be the luckiest man on earth. He has a successful career, leading man looks, and an even better-looking wife. Blake Lively is not just Ryan's wife and the mother to his three children; she has also had a great career as an actress. Together this pair is the ultimate "it couple."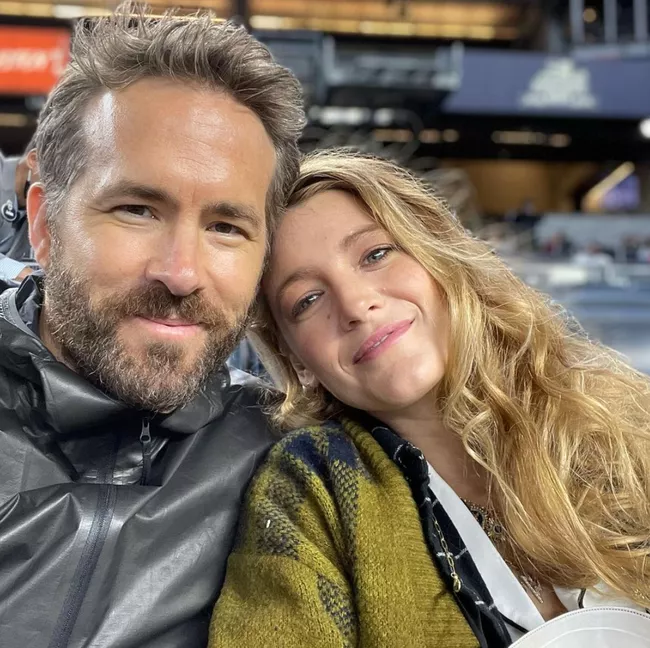 Ryan and Blake take security very seriously, especially now that they are expecting their fourth child. They pay good money for a security team, about $125,000 a year. Ryan may be the ultimate jokester, but his family's safety is no laughing matter.
Jason Momoa: $125k/year
Jason Momoa is a 6'4″, 200-pound hunk of muscle. He can often be seen towering over his security team and looks like he would definitely be able to defend himself if the need arose. Despite this, he happily pays his security team $125,000 a year.
The Aquaman star has two beautiful children with his ex-wife, Lisa Bonet. The security team may have more to do with keeping grabby fans away from his family than from him. However, we can see why fans might want to get closer to this dreamboat.
Kristen Stewart: $75k/year
Who could forget the whirlwind that was the Twilight saga? Kristen Stewart's role as Bella Swan quickly catapulted the actress into A-list status. Her relationship with her former co-star, Robert Pattinson, only made fans fall deeper in love with her.
Kristen has had to combat fans through the craziness of Twilight and the cheating scandal that made fans hate her momentarily. Fortunately, she can afford to hire a top security team to keep her safe. She just has to foot the $75,000 a year bill.
Adele: $70k/year
Lady Gaga and Adele have one thing in common (other than being award-winning artists). Both of these singers have the same bodyguard, Peter Van Der Veen. This Dutch bodyguard to the stars is not only great at his job but also devastatingly good-looking.
While Peter is easy on the eyes, his services are not easy on your wallet. When Adele hired him in 2017, he charged her $70,000 a year. It's money well spent if he makes sure that fans say hello from the other side at a reasonable distance.
Heidi Klum: $50k/year
The relationship between a bodyguard and the person they are tasked to protect can become quite complex. So much time spent together can lead to feelings getting involved. That is what happened when Heidi Klum started dating her bodyguard, Martin Kristin.
The mom of four and legendary model started dating her bodyguard after her divorce from her crooner husband, Seal. Heidi's relationship with this bodyguard, for whom she paid about $50,000 a year, did not last long, and they separated after only 18 months.
Cristiano Ronaldo: Unknown
Cristiano Ronaldo's quick feet and infallible ability to find the back of the net have earned this footballer legendary status and a hefty paycheck. His move back to Manchester United in 2021 cost the club about €23 million but will also cost Ronaldo a pretty penny.
Ronaldo is the target of a criminal gang that has broken into the homes of other footballers in the Manchester area. Ronaldo is taking no risks and has invested in security precautions like superstar bodyguards and bulletproof cars. Nothing but the best for the first family of football.
Sandra Bullock: Unknown
Cara Delevingne's stalker might have been unsuccessful in gaining entry into her home, but Sandra Bullock wasn't so lucky. Her stalker managed to find his way to her bedroom door, where he came face to face with the frightened actress.
Luckily, Sandra managed to lock herself behind a sophisticated safe door while she waited for the cops to arrive. Since that incident, Bullock has beefed up security in her home. She even employs Peter Weireter, a former SWAT member and the negotiator that talked OJ Simpson into surrendering.