45 Fantastic Female Cosplayers That Deserve A Job In Hollywood
By Sachin P December 16, 2021
---
Fans express their passion in various ways. Some put up posters at home or have a themed coffee mug at work. But nothing compares to those who dress up and essentially become characters from their favorite movies, anime, TV shows, etc. Cosplayers put in immense time, energy, and expenses to transform themselves into fictional characters, bringing them into the real world.
Many participate in photo sessions and visit conventions, and a lucky few make a decent living off their creativity and talent. It's so refreshing to see all these individuals pursuing their creative abilities and spending valuable time and time again to perfect and hone their craft. Some are so real that we almost forget that they are representing fictional characters! We have put together a list of over 40 of the world's finest and outstanding female cosplayers. Warriors, princesses, video game characters, and a myriad of fantasy characters may all be found on this exciting list!
Kitana from Mortal Kombat (by Evgeniya Rukavitsina)
Cosplay isn't limited to movies, TV shows, manga, anime, etc. Video games are fair game (pun intended) when it comes to cosplay. Check out this killer Kitana from Mortal Kombat. If you don't know, Kitana is among the game's most well-known playable characters among fans.
She first appeared in Mortal Kombat 2 in 1993. And over the decades, the character has taken on different iterations, and so this rendition highlights the character's brutal side. Throwing one of her steel fans is among her most distinctive movements that fans will recognize…and fear.
Green Lantern (Jessica Cruz) from DC (by Priscylla)
The Green Lantern Corps is not just a boy's club. Jessica Cruz (not to be confused with Penelope Cruz) is a member of the Justice League. And, obviously, the Green Lantern Corps. The powerful superheroine is of Mexican and Honduran descent.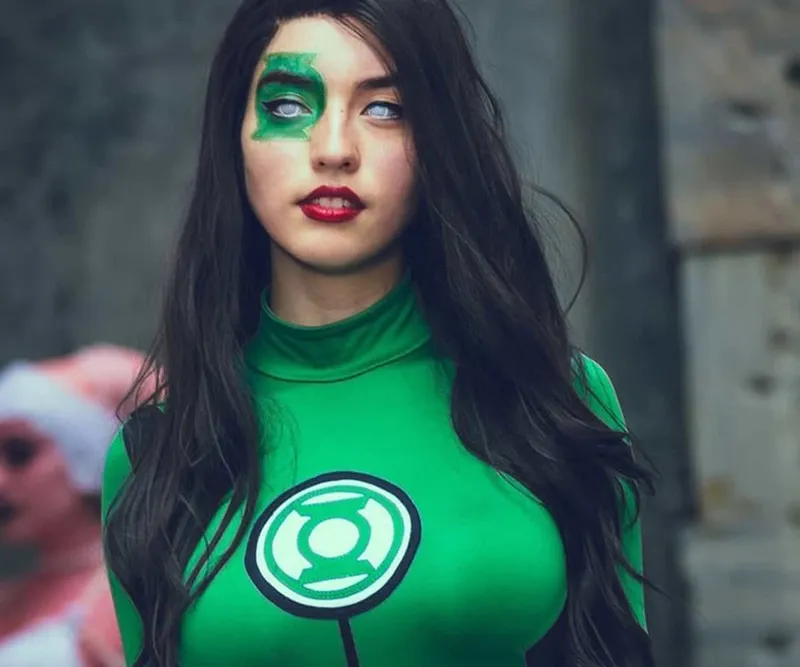 If you're not sure which characters are Marvel and which are DC, we've got you covered. Cruz is a DC character. Even if you don't know the members of the Green Lantern Corps, the green outfit, chest insignia, and the Lantern over her eye.
Gamora from Guardians of the Galaxy Vol. 2
Gamora Zen Whoberi Ben Titan is a fictional character created by Marvel Comics. She made her first appearance in Guardians of the Galaxy, and Zoe Saldaña's stellar performance made the femme fatale a fan favorite for cosplayers everywhere. We love them all, but this Gamora has a special place in our hearts…
The deadliest woman in the galaxy is a surprisingly good mother. The way she cares for baby Groot just melts our hearts. That's why we love this cosplayer's dedication by including the little flora colossus in her costume. We hope Saldaña would be just as impressed as we are.
Kida from Atlantis (by Merry Synth)
Atlantis: The Lost Empire is, sadly, one of Disney's underrated treasures. Perhaps it's because of the lack of musical numbers, but the film never reached the same level of notoriety that the other movies did. That's why we love seeing cosplays like this one.
Merry reminds us that we're not the only ones that love the film. She did a great job embodying the princess of Atlantis. She even went the extra mile and used white contact lenses to emulate the scene when she taps into her power to protect the city.
Tinkerbell from Peter Pan (by Twerkin Gherkin)
Faith, trust, and pixie dust; that's all it took for Twerkin to make her fantastical cosplay. Some cosplayers prefer to dress up as recognizable characters, and you can't go wrong with Peter Pan's companion, Tinkerbell. Who hasn't heard of the famous fairy?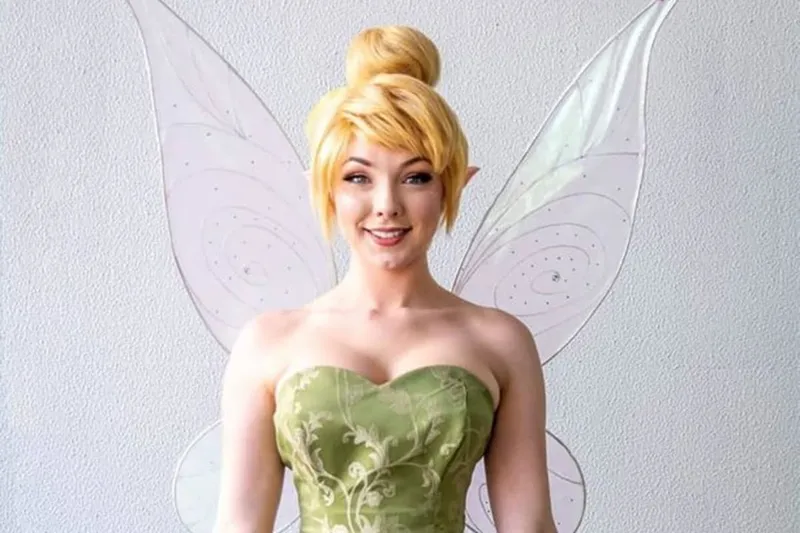 You can almost feel the effort that went into perfecting this. The original Tinkerbell from the 1953 Peter Pan wore a plain green dress, but love that Twerkin put her own twist on the outfit. The vine-like pattern on the dress matches the fairy's aura perfectly.
Mystique from X-Men: Days of Future Past (by Juliet Chevelle)
We are not the only ones that love this cosplay. Juliet Chevelle won an award at San Diego Comic-Con in 2018 for her Mystique cosplay. Her unique blend of both versions of the character is imaginative and worthy of praise.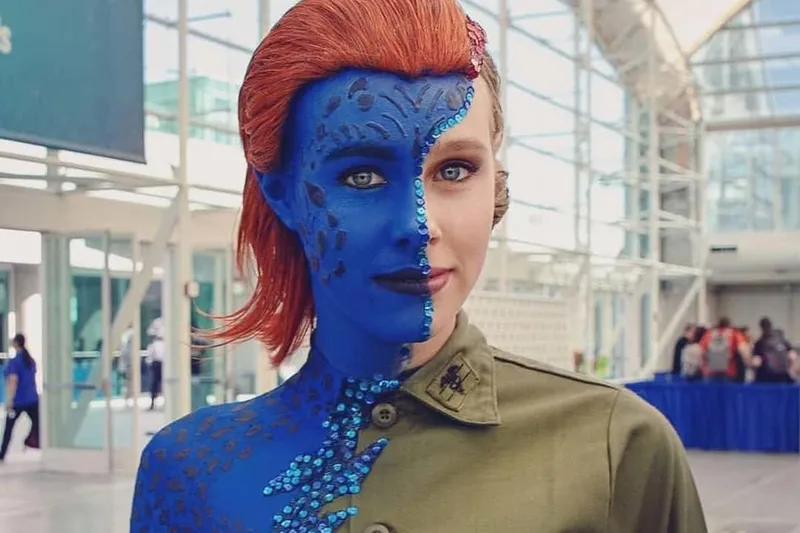 Is this what happens when you can't choose between two cosplays? Putting this together takes some serious skill! The "real" Mystique (when she's blue) is not uncommon at conventions, but this half-and-half is one-of-a-kind and we are here for it.
Princess Bean from Disenchantment (by Veronika)
Let's take a break from the traditional Marvel, DC, and Disney cosplays and check out something from TV. Well, from Netflix. In 2018, The Simpsons creator released Disenchantment and adults everywhere began their binges. Fans like Veronika couldn't hold back their love of the series…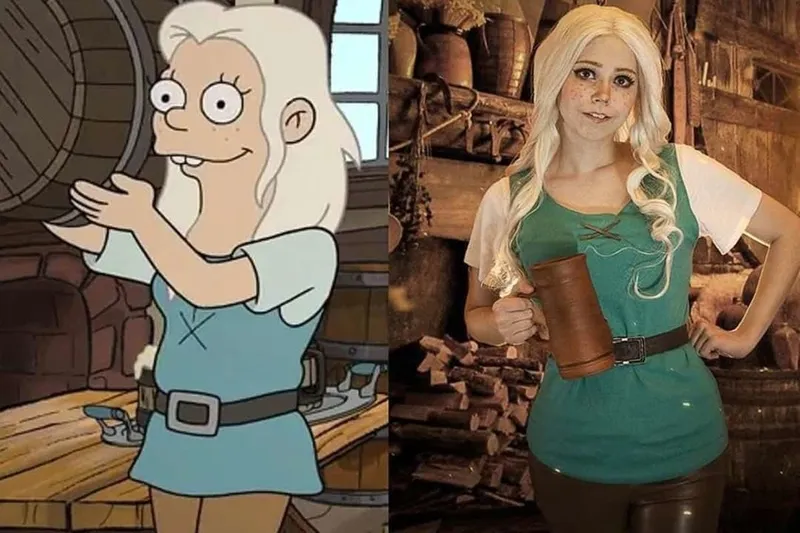 Abbi Jacobson voiced the headstrong Princess Bean in the Netflix animated comedy. The series is based in the medieval realm of Dreamland, hence the costume style. The wide frontal teeth and the long blonde hair of the animation figure are perfectly captured in this imaginative costume. Awesome!
Daenerys Targaryen from Game of Thrones (by Christina Filinka Fox)
Ladies everywhere across the world have indeed been playing dress-up as Daenerys Targaryen, the queen of dragons, since Game of Thrones first aired in 2011. Fans of the book were scattered throughout conventions, but Emilia Clarke brought the character to life.
Too bad House of the Dragon is a prequel. If you're like us, we're dying for more Daenerys. If Clarke won't return for the role, we think Christina should throw her hat in the ring. We can feel the energy from this cosplay through our screens.
Valkyrie from Thor: Ragnarok (by Maweezy)
Valkyrie is the superheroine we didn't know we were missing until Thor: Ragnarok came around in 2017. Taika Watiti's stellar film brought us one of the most kick-butt superheroes, and the credit goes to Tessa Thompson. She really made us believe that the Valkyries were real.
The Norse powerhouse is not one to be trifled with. Even if she didn't hold the tile of Queen of Asgard, Valkyrie is not one you should disobey. Maweezy nailed it with the detailed bodice, armband, and crisp white face paint.
Elsa from Olaf's Frozen Adventure (by Hannah Eva)
Elsa is one character that needs no introduction. Even if you haven't seen Frozen, we doubt you've managed to escape the influence of the snow queen. After the 2013 film, Disney released two shorts, one of which was Olaf's Frozen Adventure.
This cosplayer went with a lesser-known version of the snow queen, and we're loving it. There is no shortage of Elsa cosplayers at every convention, so we love seeing other versions of the character. While the rhinestones might not be identical to the animated version, it's gorgeous nonetheless.
Hades from Hercules (by Jacklinn)
We meant it when we said everything is fair game. Gender-bending is not uncommon in cosplays. And, honestly, sometimes we love the gender-bent version more. Check out this flaming hot Hades from the Disney classic Hercules. His fiery blue hair and quick-talking dialogue make him, sorry, her, an unforgettable character.
It's easy to understand why someone would want to mimic him. Many would take one look at his flickering hair and decide not to try cosplaying, but this pro got the perfect blue wig. We can almost see the dancing flames.
She-Hulk from Marvel (by Ginger Kutschbach)
You don't need expensive clothes, accessories, and wigs for an effective cosplay. For some, all you need is enough body paint and a simple leotard. With just a coating of green body paint, Ginger Kutschbach transformed into the powerful She-Hulk.
She-Hulk first appeared in Marvel comics in 1980, and now, over 40 years later, she has her own TV series on Disney+. Though, it's worth noting that Ginger shared her cosplay before the release of the Disney+ series. Perhaps the showrunners were inspired by this picture.
Batgirl (Barbara Gordon) from DC (by Lola V)
Everyone knows Batman's love interest Batwoman, and his young sidekick Robin, but, sadly, Batgirl usually gets overlooked. Just like Robin, there have been many young woman to put on a cape and call themself Batgirl. Lola chose the second incarnation — Barbara Gordon.
She may have been a Batman protegee, but Barbara was Dick Grayson's companion. In fact, the two even earned the nickname the "Dynamite Duo." We're in awe of this stunning cosplay. She got all the details right, even the cocky head tilt.
Aquawoman from Aquaman (by Laney Feni)
Get used to gender-bent cosplays, because we have a bunch more for you. Cosplayers are endlessly creative, and they don't let silly things like gender norms get in the way of a good outfit. The most recent, and well-known version of Aquaman is Jason Momoa…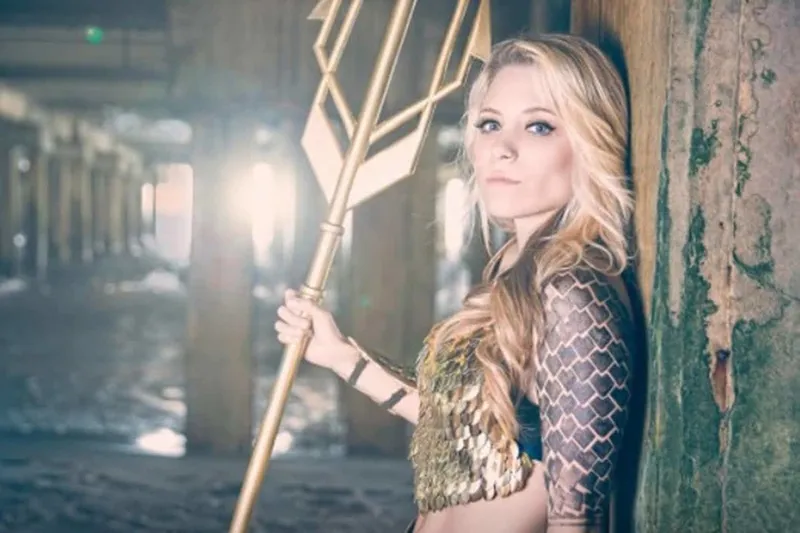 …but Laney is giving the man a run for his money. The detail of the bodice really does look like golden scales, and no one can miss the rockin' trident. But what we love most is her detailed shark scale tattoo.
Virginia "Pepper" Potts from Marvel (by Katharina Kastian)
Designing costumes is a big component of cosplaying. Professional cosplayers devote a considerable amount of time to finding and perfecting their costumes in an attempt to become the greatest. Consider this one, for instance, that boasts a hand-painted Iron Man outfit made out of high-density foam.
It can be argued that cosplayers are more innovative and resourceful than filmmakers. The latter relies heavily on CGI and digital tools to do the heavy lifting, but cosplayers don't have walking green screens and computers. They work only with practical effects.
Te Fiti from Moana
We've crossed the horizon to find her, and we know her name — Te Fiti. The 2016 film Moana made waves (pun intended) as a powerful and independent Disney heroine. If you haven't seen it, Te Fiti is the goddess that Moana seeks out on her journey.
Te Fiti is the epitome of the beauty of nature. This cosplayer makes us feel as though we're looking at an actual deity of nature. The photographer perfectly captured her essence, as the light shines just behind her, giving her an ethereal glow.
Dr. Strange from the Marvel Cinematic Universe (by Rachel Meikle)
Here's an even more fantastic gender reversal, but this time with a female Dr. Strange. The hero first emerged in the 1960s and now has appeared in a range of movies and TV shows. Of course, the world has come to know Benedict Cumberbatch's iteration of the character.
Cumberbatch has donned the Cloak of Levitation six times now, with the most recent being Doctor Strange in the Multiverse of Madness. Looking at this cosplay, we're almost disappointed that we didn't see a female version of the surgeon-turned-sorcerer. Come on Marvel, do better!
Hope Van Dyne from Ant-Man and the Wasp
Spider-Man has been a well-known name, even among non-comic fans, for decades. But there is another insect (okay, Spider-Man is an arachnid) superhero many hadn't heard of before 2015 — Ant-Man. Although it centered around a male character, the leading lady was equally impressive.
The stinger at the end of the first film left fans wanting more…and we finally got it in 2018. This cosplayer gives off an air of a fierce woman that could run laps around Ant-Man. Good thing Scott Lang is so wholesome and makes a powerful team with the Wasp.
Mantis from Guardians of the Galaxy Vol. 2 (by Lianne)
Even fifteen films into the Marvel Cinematic Universe, fans were still meeting new faces. Mantis made her first appearance in Guardians of the Galaxy Vol. 2, though there were mixed reviews from fans — likely due to her meek personality.
Like many traits and features in films today, Mantis' distinguishing antennae are done mostly through CGI. But that didn't stop Lianne from giving this cosplay a go. She made "real" antennae, complete with glowing lights! Someone hire this woman as a costume designer!
Mayor Dawn Bellweather from Zootopia (by Anna Berten)
Zootopia may not be as big of a name as Frozen, but the 2016 deserves a spot in the limelight. You might see cosplayers at conventions dressed up as Judy Hopps or Nick Wilde, but this woman wanted to stand out.
We won't spoil the movie, but let's just say that this sheep plays a big role in the plot. This meek sheep is more than meets the eye. We love her use of makeup to give the impression of a sheep's face. Very clever!
Punisher from Marvel (by Hannah Ray)
The Marvel Cinematic Universe, also known as Earth-199999, is dominated by the Hollywood films, but there have been some formidable superheroes on the small screen, too. Everyone remembers the Netflix saga featuring Daredevil, Luke Cage, Jessica Jones, and several others.
The antihero, The Punisher, made his live-action debut in Daredevil. Women are usually considered to be dainty and light-hearted, but this gender-bent Punisher is everything but! She's grim and ready to get her hands dirty. Jon Bernthal better watch out because Hannah has his number.
Captain Marvel from Captain Marvel
We need to start with a disclaimer: this is a cosplayer, not Brie Larson. We are still scratching our heads because she absolutely nailed this cosplay. If we had to guess, we think it's all in the hair. It's perfect.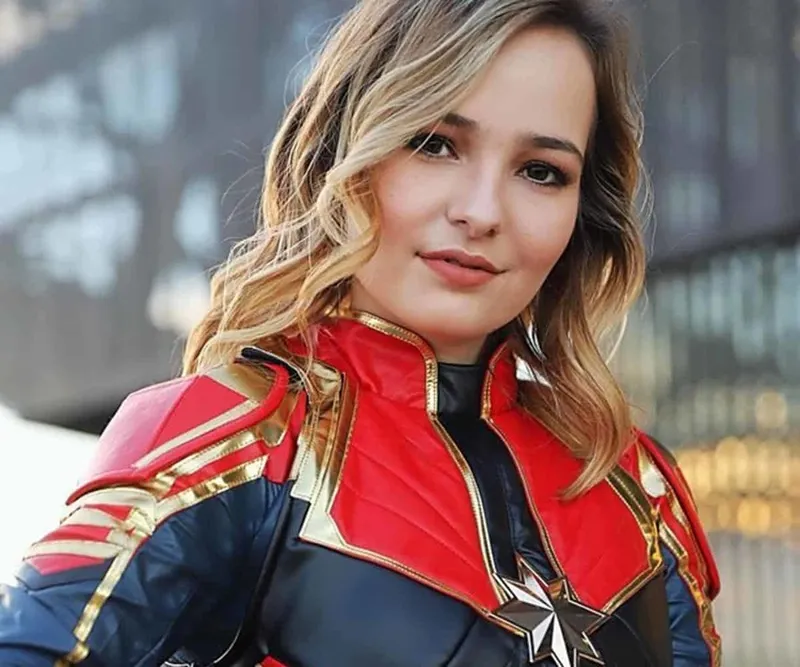 Marvel really dropped the ball with Captain Marvel. They gave us a kick-butt, albeit over-powered, heroine and we barely heard from her afterward. If they want to revive the character, we think this woman should audition for the role. She's already dressed for the job.
Pennywise the Clown from It
So far, the cosplayers we've seen have done some amazing work with sewing, and even with foam and other craft materials. While costume and props are essential for any cosplay, makeup can be the true determining factor in a masterpiece.
This cosplayer's Pennywise is so spot-on that it's giving us chills. The wig, clownish face, and inhuman eyes all paint a terrifying picture. We bet that she hangs around outside conventions near the storm drains, just to give people an extra fright.
Snow White from Snow White and the Seven Dwarfs
Snow White is the OG Disney Princess. Let's set aside any issues with her age or lack of consent from the Prince and just take a moment to appreciate the feats in animation that led to the 1937 feature film.
With ebony hair and a fair complexion, this Snow White is sure to make all the Princes in the land swoon. This fantastic cosplayer even has the perfect Snow White smile to accompany her dainty dress twirl and graceful pose.
Sailor Jupiter from Sailor Moon
Cosplayers take inspiration from a wide range of genres. Japanese manga and anime are some of the most prominent choices. Cosplay is a natural fit for such styles, in terms of appearance as well as the fanbases that support them.
Sailor Jupiter is a heroine from the Sailor Moon manga and anime series. Sailor Jupiter is a foreign student that joins a gang of female supernatural warriors. They safeguard the planetary system in the series. That sounds like an awful lot of fun and responsibility.
Pink Ranger from Power Rangers (by Angela Domaniaco)
Who isn't familiar with the Power Rangers? Even if you didn't watch the show or play with the action figures, it was impossible to escape those color-coded superheroes. While there is no issue with cosplaying as any of them, this woman chose to dress up as the one female Power Ranger…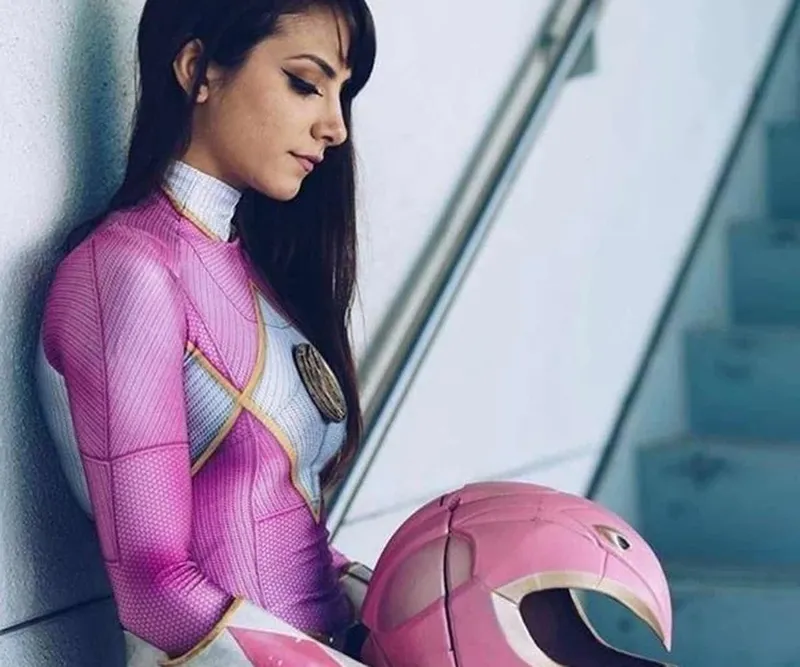 We won't talk about the silly gendering of the protagonists, and giving the female a pink suit. We'll just admire this fantastic cosplayer. We wish she had a picture with the helmet on. That's a complete look we'd love to see.
Gamora and Nebula from Guardians of the Galaxy Vol. 2 (by Sara Moni and Amber Skies)
Gamora is a popular character for cosplayers everywhere. Even though the green-skinned Zehoberei is a bit more difficult than, say, someone from Sailor Moon, she's such a beloved character, any Gamora cosplayer will get praise at a convention. This one gets extra love for pairing up with her adoptive sister, Nebula.
This picture doesn't look like a pair of cosplayers. If we didn't know any better, we'd think that this was a screencap from Guardians of the Galaxy Vol. 2. These two women really capture the sisterly love between Gamora and Nebula, don't you think?
Ant-Man from Marvel
Before you laugh, keep in mind that this is actually a pretty accurate cosplay. Ant-Man from the comics doesn't have as cool of a suit as Paul Rudd does in the films. We can see why they gave him a costume upgrade…
We can tell that this cosplayer put a lot of effort into the helmet. Since many superheroes have similar color schemes, and might even be mistaken from a distance, we understand why she made sure the helmet was perfect. After all, it's pretty identifiable.
Lana Kane from Archer
Animated shows are usually associated with kids and pre-teens, but there are a select few adult animation series. One notable one is Archer. And, given the age range at conventions, a cosplay from an adult animation series is sure to have some fans in the crowd.
While the show is named after the protagonist, Sterling Archer, Lana Kane is a key figure in the show. This cosplayer did a great job of accentuating Lana's eyes. The odd animation style seen in the show makes it unique, and a bit tricky to dress up as without seeming mundane.
Shuri from Black Panther (by CutiePieSensei)
Although T'Challa was the main character of Black Panther, we think that Shuri was the star of the movie. Maybe it was her sass, or perhaps it was her intellect and unrivaled engineering skills, but we loved every scene she was in.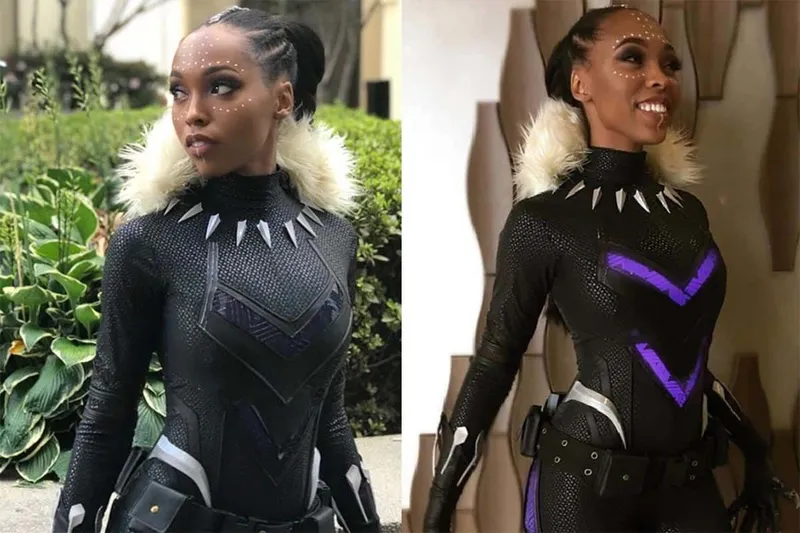 Before you get on us about Shuri versus T'Challa, the face paint is a dead giveaway that this cosplayer is the former. In the films, T'Challa dons the Black Panther suit, and while we're not aware of any version of Shuri wearing the suit, this cosplayer might just be an inspiration for future MCU directors…
Cinderella from Cinderella
We've lost track of how many movies have told the tale of Cinderella. There's the 1950s classic, a stellar 1997 made-for-TV version, the 2015 live-action version, and so many more. Cinderella is a well-known character, so there's no mistaking anyone who chooses her for their cosplay.
We love the twist this cosplayer gave to the classic princess. Aside from the toned-down ballgown, which is likely much easier to move around in, the updated straps and choker are a nice touch. While the 1950s version has a plain black necklace, we like this lacey one better.
Wonder Woman from DC
DC has had lukewarm success with its films, but Gal Gadot's Wonder Woman seemed to have broken through the myriad of superhero movies. Perhaps it was seeing so many empowering women kicking butt or the well-researched costumes, but fans were flocking to the theaters.
Wonder Woman has been a well-known DC heroine long before the movie was released, but she was often overshadowed by her male companions, Superman and Batman. We're glad she not only got a chance in the spotlight, but DC updated her costume to something a little less…showy.
X-23 from Marvel (by Rebecca)
We all know Wolverine, the gruff X-Man played by Hugh Jackman for over two decades, but he's not the only clawed Marvel hero. That's right, X-23 is a clone of the grim mutant. If you don't know who we're talking about, that's okay. She hasn't had as much time on screen.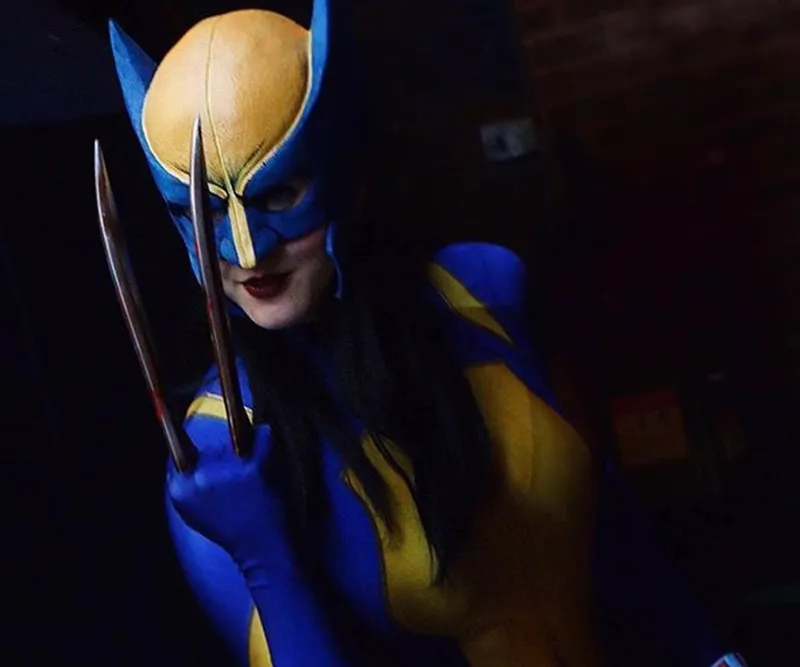 Fun fact: the character was actually created for the TV show, X-Men: Evolution. Normally, female or male iterations of well-known heroes appear in the comics decades after the original one has made a name for him/herself. Laura Kinney might be young, but you do not want to mess with her.
Chun Li from Street Fighter
With this next female cosplayer, we're going to go back to video games. Chun-Li is the very first playable female warrior in just about any franchise to garner mainstream recognition. This heroine debuted in Street Fighter II: The World Warrior in 1991.
Chun Li is widely regarded as a forerunner for woman video game characters. A crimson qipao, ivory shoes, spiky bracelets, and her hair in buns with ribbons are all part of Chun Li's outfit throughout this cosplay. She absolutely nailed this rendition.
Harley Quinn from DC (by Karishma)
Nowadays, many people think of Harley Quinn as the bubble gum-chewing "Daddy's Lil Monster." Margot Robbie's iteration of the classic DC villainess features a fantastic modern update to her wardrobe, but we can't forget the original. The Joker's companion had a very different outfit when fans first met her…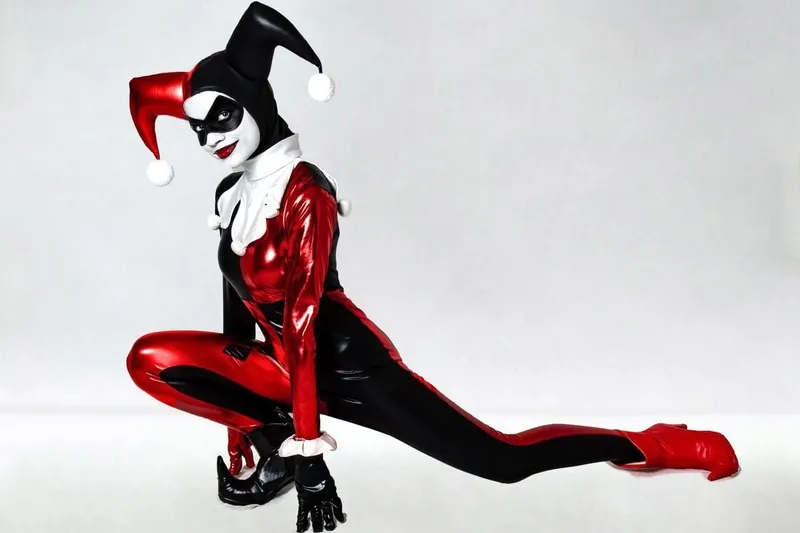 This cosplayer put together a great blast-from-the-past costume of the ex-therapist. Since "Harley Quinn" is a play on the word harlequin, the comic artists gave her an outfit resembling the Italian theater personas. There are always plenty of Ms. Quinn cosplayers, but this classic cosplayer is sure to stand out.
Maka Albarn from Soul Eater
He's so cool, we can't handle it. He's so cool, it's scandalous. The eponymous hero is so cool, the anime gave him his own theme song. Soul Evans might be able to transform into a scythe, but he's nothing without his meister, Maka.
The manga/anime centers around the students of Death Weapon Meister Academy. That's why our kick-butt Maka here is wearing a "traditional" Japanese schoolgirl outfit. But don't let the pigtails fool you. Witches and monsters better beware if she catches sight of you.
Storm from the X-Men: The Animated Series
When asked what superpower people would like to have, the answer is usually telekinesis, flight, super speed, etc. But Storm showed us to give alternate powers a fair shake. The Marvel mutant is as composed as she is a powerful force of nature.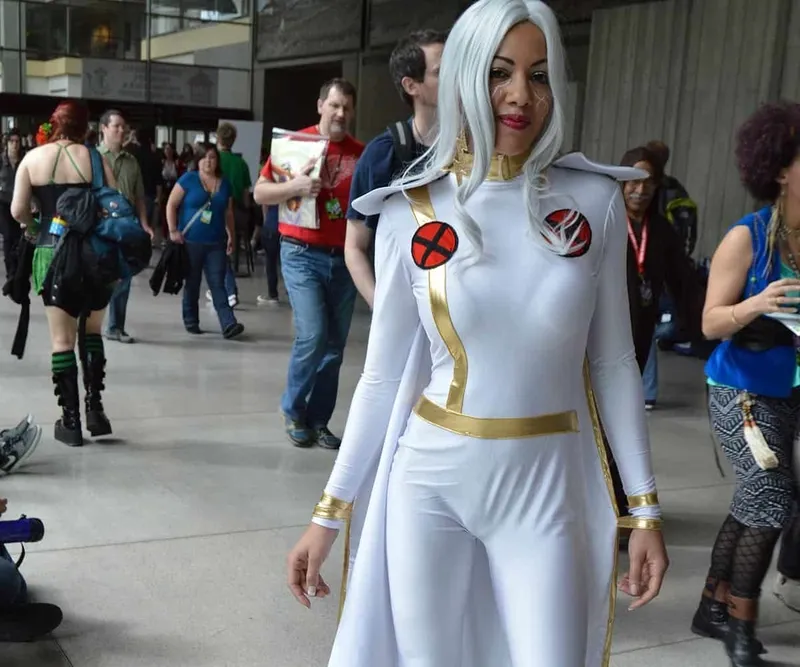 People know the X-Men from the plethora of films, but the animated series, which premiered in 1992, is definitely worth a watch. No, there's no Hugh Jackman, but you'll learn more about the minor X-Men than you'll ever see on the silver screen.
Jack Skellington and Oogie Boogie from The Nightmare Before Christmas
Couple cosplays are pretty popular, but this mother-child cosplay is something we can't get enough of! And what better fandom to dress your child up from than a "kid's" movie? The Nightmare Before Christmas is a childhood classic that kids, teens, and adults can enjoy.
We have yet to see a Jack Skellington costume we don't like, but what draws our eyes here is little Oogie Boogie. He was one of the creepiest characters in the film, but this little "monster" is so lovable. We'll hand over the Sandy Claws to him any day!
Android 18 from Dragon Ball
There are few manga/anime series more well-known than Dragon Ball; for some, it's a "gateway" series. Even if you haven't read/seen it, you probably know Goku, Vegeta, Krilin, and even Bulma. But there's another stellar female character we love — Android 18.
Unlike most manga/anime characters, Android 18 has a fairly simple costume, making her the perfect cosplay character. A white shirt, vest, gloves, blue denim jeans, black flats, and yellow socks — Android 18 was basically designed for people to closet cosplay!
Spider-Gwen from Into the Spider-verse
Into the Spider-verse was a unique superhero movie. The full-length animated feature used a combination of modern-day animation styles and included comic book-style flair to give it a 100% unique look. The memorable film was also noteworthy for centering around Miles Morales, rather than Peter Parker.
In the film's "Spiderverse," Gwen Stacy, aka Spider-Gwen, was the competent, driving force of the movie. We'll ignore any timeline issues and just fan over her characterization. Hailee Steinfeld really made us believe that "Gwanda" is a universe-hopping, butt-kicking, superhero!
Black Widow from the Marvel Cinematic Universe
There may be some recent controversy over Scarlet Johansson and her roles, but there's no denying that her portrayal of Black Widow is unrivaled. For years, fans were begging for Marvel to finally make a Black Widow film. In fact, the prospect of a solo Black Widow movie started as early as 2004!
Everyone roots for the Russian assassin, but after Black Widow, we're dying to see more of Yelena Belova. Even though Black Widow has left the MCU, for now, anyway, we're sure we'll see plenty of cosplayers dressing up in her classic red-headed suit.
Princess Leia Organa from Star Wars Episode IV: A New Hope
This woman needs no introduction. The late, great Carrie Fisher gave us one of the best heroines in film history — Princess Leia. A Princess Leia, from Episode IV, cosplay is even simpler than Android 18, but it's no less recognizable.
Leia taught us that damsels don't need to be in distress. Even when faced with the biggest baddie in the galaxy, she held her head high. In 1977, no one expected that Star Wars would be such a hit, but we're glad it was because we got to see more of this femme fatale.
Zero Two from Darling in the Franxx
Now let us look at Zero Two, the central protagonist of the anime Darling in the Franxx, for yet another wonderful manga character. The design department believed that performers would hurry to fill Zero Two's shoes because she's the most gorgeous character in the show.
According to the comics, Zero Two began as a beast but did grow up to really be sporty and towering. She's dressed in some kind of red army fatigues, with waist-length pink hair, and two bright red horns. This person pulled it off perfectly.
Hermione Granger from Harry Potter
Do you mean to tell us that this isn't Emma Watson? This cosplayer put together a spot-on Hermoine Granger costume. From the school uniform to the hair to the clever and mischievous look, there's no mistaking who she's dressing up as.
Hermione Jean Granger is one of the tritagonists, and she's arguably the most competent and capable of the famous trio. Watson may be in her 30s now, but we can still see the first time she picked up a wand so clearly, almost as if it was yesterday.
Rapunzel from Tangled
Last, but certainly not least, we have Rapunzel from the 2010 Disney film Tangled. Rapunzel has been a well-known fairytale character for years, but Tangled brought her back to the forefront. Disney's dark twist on the tale made us love the character even more.
This cosplayer did a fantastic job putting together Rapunzel's outfit, down to the embroidered bodice. Yet, what makes her stand out is her tiny companion, Pascal. Unlike most animal sidekicks, he didn't speak. But Rapunzel understood him, and that's all that matters.